I nostri monitor industriali per montaggio universale costituiscono il cuore del sistema modulare Hope Industrial Workstation System. Utilizzando i punti di montaggio VESA o della staffa a forcella inclusi, il display fully enclosed può essere montato in una gamma illimitata di configurazioni a seconda delle esigenze individuali di ogni applicazione dell'utente. I collegamenti dei cavi sono protetti all'interno della cavità del monitor, con i cavi che escono attraverso una serie di premistoppa sigillati per ambienti wash-down.
É possibile aggiungere tastiere industriali sigillate opzionali per creare una soluzione HMI completa, mentre gli enclosure completamente sigillati per PC o thin client consentono di montare direttamente sulla workstation la maggior parte dell'hardware standard del computer. Le prolunghe KVM industriali consentono di posizionare il PC fino a 300 m di distanza utilizzando un cavo CATx schermato.
Vedute posteriori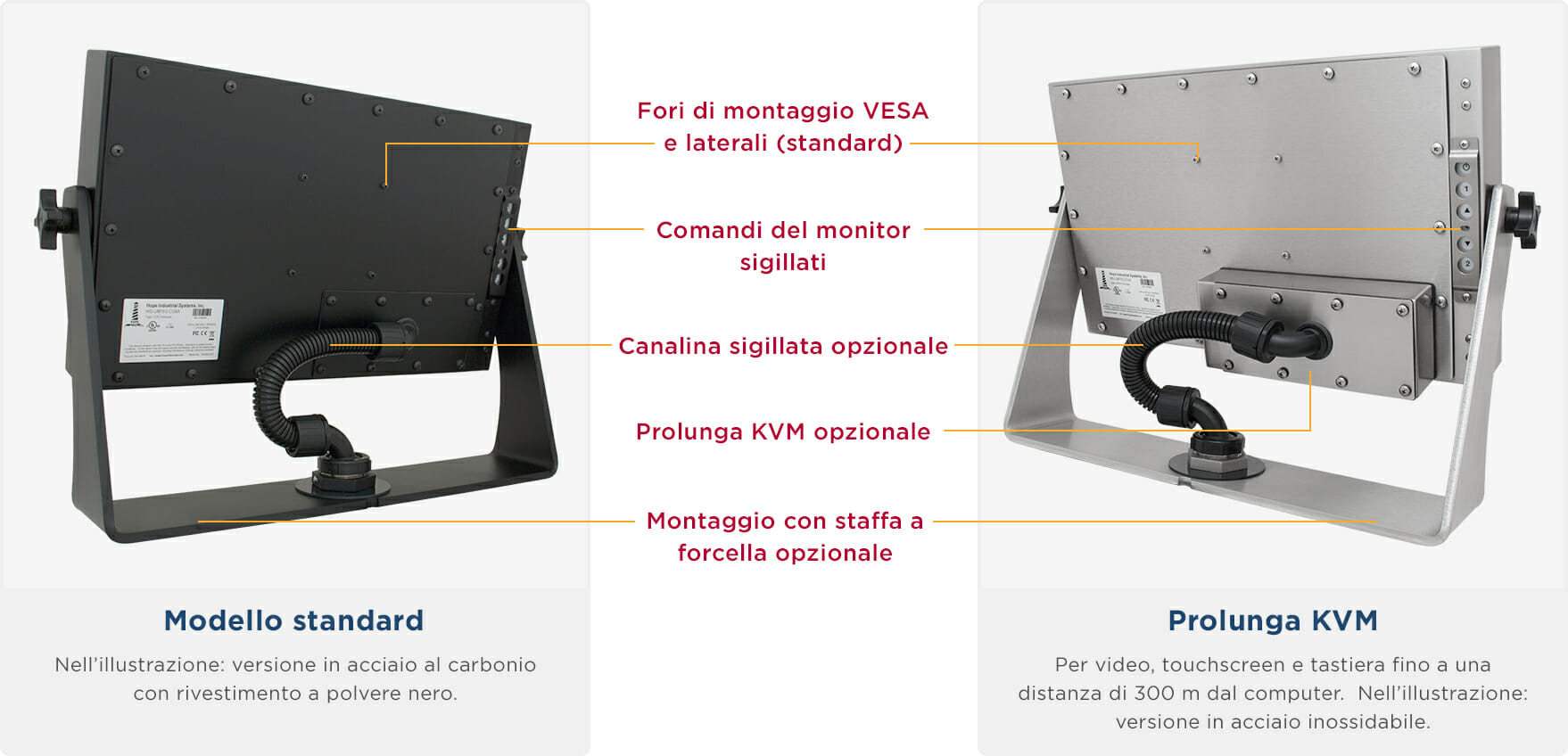 Uscite dei cavi
Visitate la pagina Piastre per uscita cavi per le specifiche dettagliate e le opzioni disponibili.
Display
Dimensioni – Diagonale 19,5″ (widescreen)
Risoluzione nativa – HD 1080p (1920 x 1080, rapporto di formato 16:9)
Luminanza (bianco) – 250 nit (cd/m2) max
Rapporto di contrasto – 3000:1
Retroilluminazione (tipica) – LED; dimezzamento della retroilluminazione 50.000 ore
Tipo – A cristalli liquidi a matrice attiva con tecnologia Thin-Film Transistor (TFT)
Dimensioni dell'immagine (L x H) – 434,88 mm x 238,68 mm
Plug and Play – Compatibile con DDC1/2B
Risoluzione minima– VGA (640 x 480)
Pixel pitch– 0,2265 mm x 0,221 mm
Numero di colori– 16,7 milioni
Angolo di visualizzazione (oriz./vert.), tipico – 178° / 178°
Opzioni finestra
Touchscreen resistivo single-touch

Tecnologia – Sensore resistivo single-touch a 5 fili. Sensibile alla pressione per l'utilizzo con qualsiasi penna capacitiva o guanto. Lastra di copertura in poliestere con rivestimento in acrilico duro antiriflesso. Supporto di gesti single-touch.
Interfaccia – Interfaccia USB o RS-232 per computer (incluse entrambe le connessioni)

Touchscreen PCAP multi-touch

Tecnologia – Sensore capacitivo proiettato ad alta chiarezza. Può essere utilizzato con guanti sottili o con una penna capacitiva. Vetro rinforzato chimicamente con finitura antiriflesso. Supporto di gesti multi-touch a 10 punti.
Interfaccia – Interfaccia USB per computer

Finestra in vetro (non sensibile al tocco) – Finestra in vetro da 2,8 a 3,0 mm con finitura superficiale antiriflesso lucida al 90%. Rafforzato chimicamente per una maggiore resistenza agli urti e ai graffi. Supera il test di caduta della sfera, 500 g a 2,0 m.
Finestra protettiva da contatto con alimenti (non sensibile al tatto) – Vetro con lastra di copertura in poliestere e rivestimento in acrilico duro antiriflesso
Video
Connettori d'ingresso – DVI-I; DisplayPort
Ingressi compatibili utilizzando un adattatore opzionale (dettagli su richiesta)

HDMI (tramite adattatore da DVI ad HDMI); numero parte: ADAP-DVIDM-HDMIF
Mini DisplayPort (tramite adattatore da Mini DisplayPort a DisplayPort); numero parte: ADAP-DPM-MDPF
VGA (tramite adattatore da VGA a DVI); numero parte: CVGA-DVI
BNC (tramite adattatore a 5 fili da BNC ad HD-15); numero parte: C20A

Formati dei segnali di ingresso

Video analogico RGB, 0,7/1,0 Vp-p, 75 Ohm; modalità di sincronizzazione compatibili: sincronizzazione H/V separata, sincronizzazione composita, sync on green
DVI
DisplayPort 1.1
Disponibile ingresso composito NTSC/PAL; dettagli su richiesta

Scansione orizzontale – 24-82 kHz
Scansione verticale – 50-75 Hz
Standard video comuni supportati

HD 1080p – 1920 x 1080 @ 60 Hz (nativo)
1680 x 1050 a 60 Hz
1600 x 1200 a 60 Hz
1440 x 900 a 60, 75 Hz
1280 x 1024 a 60, 75 Hz
1024 x 768 a 60, 70, 72, 75 Hz
800 x 600 a 56, 60, 75 Hz
720 x 480 a 60 Hz
640 x 480 a 50, 75 Hz
Fare riferimento al manuale dell'utente per l'elenco completo della compatibilità in materia di risoluzione e temporizzazione

Tempo di risposta (tipico) – 25 ms
Caratteristiche elettriche
Ingresso alimentazione

Ingresso alimentazione CA – Da 100 a 240 V CA, 0,6/0,3 A, 60/50 Hz
Ingresso alimentazione CC – Da 10,8 a 26,4 V CC, da 2,3 a 0,9 A, Classe 2 o SELV/LPS

Consumo energetico (tipico) – 27 W
Consumo energetico (in modalità standby) – < 2 W
Caratteristiche ambientali
Grado di protezione dell'enclosure – IP65/IP66/IP69/IP69K, IP65/IP66 o IP22 se dotato della piastra per uscita cavi necessaria; NEMA 2, NEMA 4 o NEMA 4X (a seconda dell'uscita cavi). Maggiori informazioni sui gradi di protezione IP/NEMA.
Temperatura di esercizio – Da 0 a 50 °C
Temperatura di stoccaggio – Da -20 a 60 °C
Umidità – Dal 20% al 90% senza condensa
Resistenza agli urti durante il funzionamento – 15 g, 6 msec, semi-sinusoidale
Resistenza alle vibrazioni durante il trasporto (sinusoidale) – 1,0 g, spazzolata sinusoidale 9-500 Hz
Resistenza alle vibrazioni durante il trasporto (asincrono) – 0,1 g² / Hz, 10-200 Hz; 0,03 g² / Hz, 200-2000 Hz
Altitudine – In funzionamento: fino a 3,05 km; non in funzionamento: fino a 12,19 km
Caratteristiche funzionali
Comandi sul pannello (accesso posteriore) – Power, Right, Left, SEL, Menu
Comandi OSD (On Screen Display) – Contrast, Brightness, Sharpness, Color, Timing, Auto setup, H total, V Position, H Position, Phase, Inputs, OSD, Info, Reset to factory defaults, Source scan, Advanced Setup
Caratteristiche fisiche
Tipo di enclosure – Enclosure autonomo
Materiale dell'Enclosure – Enclosure in acciaio al carbonio rivestito a polvere nero o acciaio inossidabile; la finestra edge-to-edge con modanatura del bordo nero in uretano da 60D durometri elimina la raccolta di corpi solidi grazie alla sua perfetta integrazione con la superficie frontale del display
Fori per montaggio VESA – Standard su tutti i modelli – Distanza fori lato quadrato 100 mm, filettatura M4
Fori per montaggio laterale – Standard su tutti i modelli, filettatura interna da 1/4″-20 x 15,9 mm di profondità
Dimensioni dell'enclosure (L x H x P) – 537,7 mm x 340,1 mm x 82,6 mm
Peso netto

Modelli in acciaio al carbonio con rivestimento a polvere nero – 8,89 kg
Modelli in acciaio inossidabile – 10,02 kg

Peso di spedizione

Modelli in acciaio al carbonio con rivestimento a polvere nero – 11,34 kg
Modelli in acciaio inossidabile – 12,25 kg
Conformità e certificazioni
Caratteristiche elettriche
Affidabilità
Caratteristiche ambientali
Enclosure
Aree pericolose

Componente elencato I.T.E. per Classe I, Divisione 2 per Gruppi A, B, C e D; Classe II, Divisione 2 per Gruppi F e G; Classe III
Temp Code T5 (File n. E334953) per ANSI/ISA-12.12.01-2015 e CAN/CSA C22.2 n. 213-15
Nota: Hope Industrial Systems fornisce cavi e canaline conformi al National Electric Code statunitense ma non può omologare cavi e canaline per aree pericolose, poiché in tal caso sono necessarie un'ispezione e un'approvazione a livello locale. Il cliente deve installare il monitor omologato per aree pericolose in conformità con i codici elettrici applicabili nella sua sede.
Uscite dei cavi
Premistoppa – Uscita cavi attraverso schiuma di poliuretano compresso o gomma EPDM riposizionabile da parte dell'utente. Disponibile in versione IP65/IP66 o IP22.
Canalina da 28 mm – Uscita cavi attraverso canaline flessibili. Lunghezza massima delle canaline 7,0 m. Disponibile in versione IP65/IP66/IP69/IP69K o IP65/IP66.
Premistoppa per canalizzazione – Uscita cavi attraverso canaline flessibili. Lunghezza massima delle canaline 7,0 m. I cavi per le periferiche presenti nelle vicinanze (mouse, tastiera, scanner) possono uscire attraverso gomma EPDM compressa e riposizionati dall'utente. Sigillata in base agli standard IP65/IP66.
Piastra di copertura con foro pilota – Piastra di copertura IP65/IP66 con foro pilota da utilizzare con premistoppa per uscita cavi fornito dal cliente.
Componenti opzionali per workstation
Monitor da 19,5" per montaggio universale - I prezzi indicati di seguito si riferiscono solo al monitor. I prezzi della configurazione di base indicati sopra includono il monitor, la piastra di copertura base e cavi da 1,8 m.
Materiale dell'enclosure
Opzione finestra
Numero parte
Prezzo
Acciaio inossidabile

Touchscreen resistivo single-touch

HIS-UM19.5-STVB

$1,585

£1,325

€1,510

1.510 €

HIS-UM19.5-STVB

Touchscreen PCAP multi-touch

HIS-UM19.5-SPVB

$1,635

£1,365

€1,560

1.560 €

HIS-UM19.5-SPVB

Finestra in vetro temperato (non sensibile al tocco)

HIS-UM19.5-SGVB

$1,450

£1,210

€1,385

1.385 €

HIS-UM19.5-SGVB

Finestra protettiva da contatto con alimenti (non sensibile al tatto)

HIS-UM19.5-SHVB

$1,550

£1,295

€1,480

1.480 €

HIS-UM19.5-SHVB

Acciaio al carbonio con rivestimento a polvere nero

Touchscreen resistivo single-touch

HIS-UM19.5-CTVB

$1,295

£1,080

€1,235

1.235 €

HIS-UM19.5-CTVB

Touchscreen PCAP multi-touch

HIS-UM19.5-CPVB

$1,345

£1,125

€1,285

1.285 €

HIS-UM19.5-CPVB

Finestra in vetro temperato (non sensibile al tocco)

HIS-UM19.5-CPVB

$1,160

£970

€1,105

1.105 €

HIS-UM19.5-CGVB

Finestra protettiva da contatto con alimenti (non sensibile al tatto)

HIS-UM19.5-CPVB

$1,260

£1,050

€1,200

1.200 €

HIS-UM19.5-CHVB