I nostri monitor per montaggio universale costituiscono il cuore del sistema modulare Hope Industrial Workstation System. Utilizzando i punti di montaggio VESA o della staffa a forcella inclusi, il display fully enclosed può essere montato in una gamma illimitata di configurazioni a seconda delle esigenze individuali di ogni applicazione dell'utente. I collegamenti dei cavi sono protetti all'interno della cavità del monitor, con i cavi che escono attraverso una serie di premistoppa sigillati per ambienti wash-down.
É possibile aggiungere tastiere industriali sigillate opzionali per creare una soluzione HMI completa, mentre gli enclosure completamente sigillati per PC o thin client consentono di montare direttamente sulla workstation la maggior parte dell'hardware standard del computer. Le prolunghe KVM industriali consentono di posizionare il PC fino a 300 m di distanza utilizzando un cavo CATx schermato.
Vedute posteriori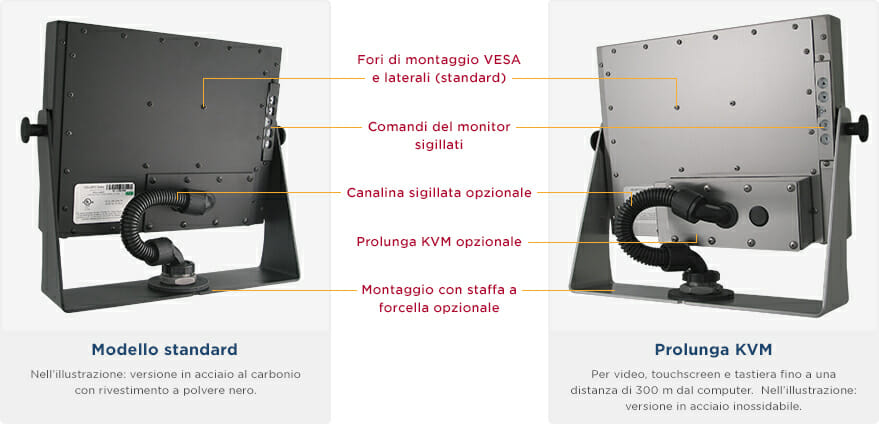 Uscite dei cavi
Visitate la pagina Piastre per uscita cavi per le specifiche dettagliate e le opzioni disponibili.
Display
Tipo – A cristalli liquidi a matrice attiva con tecnologia Thin-Film Transistor (TFT)
Dimensioni – Diagonale 15,0″
Dimensioni dell'immagine (L x H) – 304 mm x 228 mm
Risoluzione nativa – XGA (1024 x 768, rapporto di formato 4:3)
Plug and Play – Compatibile con DDC1/2Bi
Risoluzione minima – 640 x 400
Pixel pitch– 0,297 mm x 0,297 mm
Numero di colori– 16,7 milioni
Luminanza (bianco) – 400 nit (cd/m2) max
Angolo di visualizzazione (oriz./vert.), tipico – 170° / 170°
Rapporto di contrasto – 1500:1
Retroilluminazione (tipica) – LED; dimezzamento della retroilluminazione 60.000 ore
Finestra in vetro completamente temperato (non sensibile al tocco) – Vetro completamente temperato in base ad ASTM C1048; rivestimento antiriflesso 90 gloss sul lato anteriore; il trattamento di tempra fornisce una maggiore sicurezza e una resistenza più elevata a urti e graffi
Finestra in materiale acrilico opzionale (non touchscreen) – Il rivestimento in materiale acrilico conferisce resistenza ai graffi e alle rotture; rivestimento antiriflesso con riduzione del 99% dei riflessi, termoisolante e antistatico; assorbimento del 99% dei raggi UV
Video
Connettori d'ingresso – HD-15, DVI-I
Ingressi compatibili utilizzando un adattatore opzionale (dettagli su richiesta)

HDMI (tramite adattatore da DVI a HDMI); numero parte: ADAP-DVIDM-HDMIF
DisplayPort (tramite adattatore da DisplayPort a DVI); numero parte: ADAP-DPM-DVIIF
BNC (tramite adattatore da BNC 5 fili a HD-15); numero parte: C20A

Formati dei segnali di ingresso

Video analogico RGB, 0,7 Vp-p, 75 Ohm; modalità di sincronizzazione compatibili: Sincronizzazione H/V separata
DVI
Disponibile ingresso composito NTSC/PAL; dettagli su richiesta

Scansione orizzontale – 31-73 kHz
Scansione verticale – 50-75 Hz
Standard video supportati – XGA – 1024 x 768 a 60 (nativo), 70, 72, 75 Hz; 800 x 600 a 56, 60, 72, 75 Hz; 720 x 400 a 70 Hz; 640 x 480 a 60, 67, 72, 75 Hz; 640 x 400 a 70 Hz; per l'elenco completo della compatibilità in materia di risoluzione e temporizzazione fare riferimento al manuale dell'utente
Tempo di risposta (tipico) – 35 ms
Caratteristiche elettriche
Ingresso alimentazione

Modelli con alimentazione CA – Da 100 a 240 V CA, 1,5/0,75 A, 60/50 Hz
Modelli con alimentazione CC – Da 9,6 a 36,6 V CC, da 2,5 a 0,65 A, Classe 2 o SELV/LPS

Consumo energetico (tipico) – 16,8 W
Consumo energetico (in modalità standby) – < 4 W
Caratteristiche ambientali
Grado di protezione dell'enclosure – Sigillato in base agli standard IP65/IP66 o IP22 (a seconda dell'uscita cavi); NEMA 2, NEMA 4 o NEMA 4X se dotato della piastra per uscita cavi necessaria. Maggiori informazioni sui gradi di protezione IP/NEMA.
Temperatura di esercizio – Da 0 a 50 °C
Temperatura di stoccaggio – Da -20 a 60 °C
Umidità – Dal 20% al 90% senza condensa
Resistenza agli urti durante il funzionamento – 15 g, 6 msec, semi-sinusoidale
Resistenza alle vibrazioni durante il trasporto (sinusoidale) – 1,0 g, spazzolata sinusoidale 9-500 Hz
Resistenza alle vibrazioni durante il trasporto (asincrono) – 0,1 g² / Hz, 10-200 Hz; 0,03 g² / Hz, 200-2000 Hz
Altitudine – In funzionamento: fino a 3,05 km; non in funzionamento: fino a 12,19 km
Protezione opzionale dai gas sulfurei – Comprende touchscreen con armatura in vetro, inibitore della corrosione in fase vapore e ampia sigillatura; dettagli su richiesta. Maggiori informazioni sulla protezione dai gas sulfurei.
Caratteristiche funzionali
Comandi sul pannello (accesso posteriore) – Power, Right, Left, SEL, Menu
Comandi OSD (On Screen Display) – Contrast, Brightness, Sharpness, Color, Timing, Auto setup, H total, V Position, H Position, Phase, Inputs, OSD, Info, Reset to factory defaults, Source scan, Advanced Setup
Caratteristiche fisiche
Tipo di enclosure – Enclosure autonomo
Materiale dell'enclosure – Enclosure in acciaio al carbonio con rivestimento a polvere nero (con copertura posteriore in alluminio con rivestimento a polvere nero) o enclosure in acciaio inossidabile
Fori per montaggio VESA – Standard su tutti i modelli – Distanza fori lato quadrato 100 mm, filettatura M4
Fori per montaggio laterale – Standard su tutti i modelli
Dimensioni dell'enclosure (L x H x P) – 416,6 mm x 330,2 mm x 73,9 mm
Peso netto

Modelli in acciaio al carbonio con rivestimento a polvere nero – 5,90 kg
Modelli in acciaio inossidabile – 7,26 kg

Peso di spedizione

Modelli in acciaio al carbonio con rivestimento a polvere nero – 7,26 kg
Modelli in acciaio inossidabile – 8,62 kg
Conformità e certificazioni
Caratteristiche elettriche
Affidabilità
Caratteristiche ambientali

RAEE – Registrazione n. WEE/DJ1859ZX solo per Regno Unito

Enclosure
Aree pericolose

Componente elencato I.T.E. per Classe I, Divisione 2 per Gruppi A, B, C e D; Classe II, Divisione 2 per Gruppi F e G; Classe III
Temp Code T4A (File n. E334953) per ANSI/ISA-12.12.01-2015 e CAN/CSA C22.2 n. 213-15
Nota: Hope Industrial Systems fornisce cavi e canaline conformi al National Electric Code statunitense ma non può omologare cavi e canaline per aree pericolose, poiché in tal caso sono necessarie un'ispezione e un'approvazione a livello locale. Il cliente deve installare il monitor omologato per aree pericolose in conformità con i codici elettrici applicabili nella sua sede.
Opzione touchscreen
Tecnologia – Sistema resistivo a singolo tocco a 5 fili con emulazione mouse
Interfaccia – Interfaccia USB o RS-232 per computer (sui monitor touchscreen sono incluse entrambe le connessioni)
Uscite dei cavi
Premistoppa – Uscita cavi attraverso schiuma di poliuretano compresso o gomma EPDM riposizionabile da parte dell'utente. Disponibile in versione IP65/IP66 o IP22.
Canalina da 28 mm – Uscita cavi attraverso canaline flessibili. Lunghezza massima delle canaline 7,0 m. Sigillata in base agli standard IP65/IP66.
Premistoppa per canalizzazione – Uscita cavi attraverso canaline flessibili. Lunghezza massima delle canaline 7,0 m. I cavi per le periferiche presenti nelle vicinanze (mouse, tastiera, scanner) possono uscire attraverso gomma EPDM compressa e riposizionati dall'utente. Sigillata in base agli standard IP65/IP66.
Piastra di copertura con foro pilota – Piastra di copertura IP65/IP66 con foro pilota da utilizzare con premistoppa per uscita cavi fornito dal cliente.
Componenti opzionali per workstation
Monitor da 15" per montaggio universale - I prezzi indicati di seguito si riferiscono solo al monitor. I prezzi della configurazione di base indicati sopra includono il monitor, la piastra di copertura base e cavi da 1,8 m.
Materiale dell'enclosure
Ingresso alimentazione
Opzione finestra
Numero parte
Prezzo
Acciaio inossidabile
CA
Touchscreen resistivo single-touch
HIS-UM15-STAH

$1,195

£1,000

€1,185

1.185 €

Vetro (non sensibile al tatto)
HIS-UM15-SGAH

$1,085

£905

€1,075

1.075 €

Acrilico (non sensibile al tatto)
HIS-UM15-SAAH

$1,090

£910

€1,080

1.080 €

CC
Touchscreen resistivo single-touch
HIS-UM15-STTH

$1,265

£1,055

€1,255

1.255 €

Vetro (non sensibile al tatto)
HIS-UM15-SGTH

$1,155

£965

€1,145

1.145 €

Acrilico (non sensibile al tatto)
HIS-UM15-SATH

$1,160

£970

€1,150

1.150 €

Acciaio al carbonio con rivestimento a polvere nero
CA
Touchscreen resistivo single-touch
HIS-UM15-CTBH

$940

£785

€935

935 €

Vetro (non sensibile al tatto)
HIS-UM15-CGBH

$830

£695

€825

825 €

Acrilico (non sensibile al tatto)
HIS-UM15-CABH

$835

£700

€830

830 €

CC
Touchscreen resistivo single-touch
HIS-UM15-CTTH

$1,010

£845

€1,000

1.000 €

Vetro (non sensibile al tatto)
HIS-UM15-CGTH

$900

£750

€895

895 €

Acrilico (non sensibile al tatto)
HIS-UM15-CATH

$905

£755

€900

900 €